We're testing Motorola's new unbreakable phone
Motorola isn't the world's number one Android phone manufacturer, but it's still one that impresses. And the series supporting MotoMods has certainly gained a lot of exposure in the last couple of years, mostly as a result of going all-in on an approach that no other company has embraced so far.
The Moto Z Force is back with the second generation, and just like before, Motorola has focused on nearly the same things, improving the device in almost every little aspect.
This would technically mean that the Z2 Force is a smartphone that just excels, but while on paper it all may sound like milk and honey, you really shouldn't take this model as a full replacement to Samsung's and Apple's flagships. At least, not yet.
The first thing you'll notice is that like its predecessor, the Z2 Force is incredibly thin. And as said, Motorola tried to score extra in nearly every regard, so the new-generation model is 13 percent thinner and 12 percent lighter than the previous model, which to be honest, is quite an achievement.
Unfortunately, as with everything getting thinner (I'm looking at you, iPhone), the Moto Z2 Force comes with a smaller battery, and this change has a substantial impact on the time you can use the device per each charge. But we're going to discuss this in detail a little bit later.
At just 6.1mm thin and tipping the scales at 145 grams, this 5.5-inch phone feels incredible in hand. It's super-easy to hold it in one hand that even a baby could do it, and at the same time you won't even feel it when keeping the device in your pocket. Previously, carrying a phone that large in your pants wasn't as comfortable as some expected, but the reduced weight of the Moto Z2 Force makes it a problem no more.
The design of the Moto Z2 Force, however, isn't exactly the one you'd expect from a new-generation smartphone. It's not as pretentious as the Galaxy S9, for instance, as it features no curved edges and no glass, and instead of an edge-to-edge design approach, it sticks with the traditional recipe.
There's a large 5.5-inch display with a fingerprint sensor integrated into the home button, still placed on the front and still causing a massive bottom bezel that everyone is trying to get rid of these days. The home button, however, comes with a series of gimmicks this time, including gestures that you're going to love every time when using the phone.
"13 percent thinner, 12 percent lighter."
The Force in the phone's name is an indicator that the device was built from the very beginning to be tough. Ultra-tough, to be more precise. But as I found out during our tests, there's a thin line between marketing and reality, and in the case of the Z2 Force, it's extremely easy to cross it.
First of all, the official specs. The 5.5-inch OLED display with Quad HD resolution uses a five-layer protection system that Motorola calls ShatterShield.
As you can easily guess by simply reading its name, the screen was supposed to be shatterproof, though as you'll find out in a minute, achieving this still seems to be a challenge. With a plastic top layer placed over the other four, the display isn't scratchproof, which is certainly a surprise, especially because so many phones out there use Gorilla Glass specifically for this purpose.
And while it does sound awkward, a shatterproof phone isn't scratchproof, which doesn't make any sense given that it costs more than $600. Also, the Moto Z2 Force isn't waterproof or water-resistant, again a little unexpected from this kind of device. It is splash resistant, however.
Now, for the facts, the shatterproof-but-not-scratchproof thing contributes to that thin line I was talking about earlier. Technically, you can scratch its screen, but not break it? Oh well...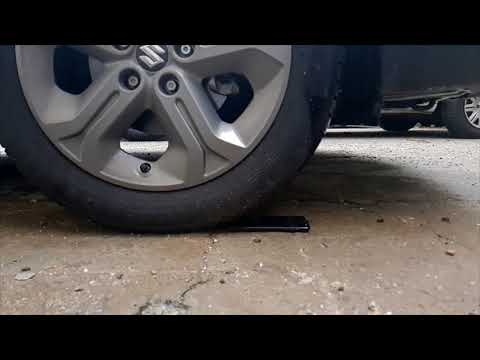 Play Video
What you see here is the result of me driving my car over the Moto Z2 Force. Maybe the phone survived, but not the same thing can be said about the camera. For some reason, Motorola hasn't paid the same attention to the camera protection as it did to the phone screen, and while some use sapphire to prevent scratches and physical damage, the Moto Z2 Force appears to come with rather weak protection.
Truth be told, there are only minor scratches on the screen, probably caused by the small rocks on the concrete, but other than that, the phone passed the test with flying colors. If this phrase can still be used after the camera broke down...
Moto Z2 Force's kryptonite appears to be a stapler which damaged the phone from the first attempt. While it resisted the shock of a hammer, it surrendered to the said stapler, which damaged the screen and caused a sometime-white-sometime-purple line on the screen.
Don't even think of using a drill machine on the Z2 Force because it'll break through the screen in a second. I barely touched the display with the drill bit, and all five layers of the screen were damaged, so I had to stop because otherwise, the battery may have exploded.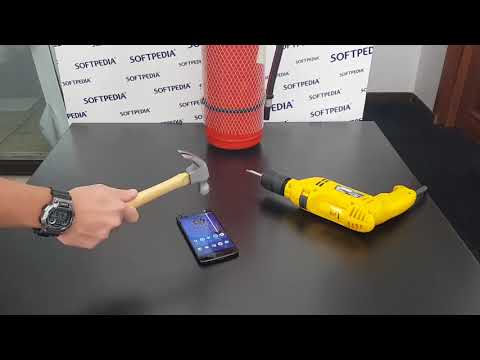 Play Video
As it's the case of water resistance, I believe a shatterproof display isn't created to let you test its limits, but rather be there in case accidents happen. You're obviously not supposed to try drill holes in your phone, but if something heavy lands by mistake on the screen, at least it won't break as easy as in the case of an iPhone or Galaxy phone.
Also, it's important to always have in mind that sometimes there's more marketing behind manufacturers' words than actual truth. Don't take anything for granted, and if someone says it built an indestructible smartphone, you have to test it on your own to see if that's indeed true.
Getting back to more convenient tests, let's talk a little bit about the hardware that the Moto Z2 Force comes equipped with.
In addition to its resistance to powerful external forces, Motorola wanted the Z2 Force to also be a high-end model, so the device runs on a Snapdragon 835 processor paired with either 4GB or 6GB RAM depending on the configuration you choose (the phone was launched last year, and at the time of its unveiling, the Snapdragon 835 was Qualcomm's top mobile chip).
"Beautiful display with vibrant colors."
The display offers beautiful and vibrant colors and excellent responsiveness, even after the stapler managed to get through its protective layers. Touch input worked even in the damaged areas, for some reason, though I expect it to fail sometime very soon.
The device can be ordered with either 64GB or 128GB storage, and all models come with a dual-camera system that uses two different 12-megapixel units with f/2.0 and 1.25um sensor size.
Cameras don't offer stunning performance, but they do serve their purpose very well, though I'd say that Motorola needs to focus a little bit more on low-light shots and pictures that you take in motion. There's no optical image stabilization, which is absolutely a must-have for high-end phones these days, and this can easily be observed in your photos.
The dual-camera tech has a different goal than in the case of the iPhone, for example, and does not offer optical zoom. Instead, it uses the idea that was first implemented by Huawei and one of the cameras takes black and white photos automatically. This means you won't need any software filters if you enjoy black and white shots, though again, you need perfect lighting conditions for everything to look good.
What I was impressed with was how the laser focus works. Moto Z2 Force is one of the fastest phones when it comes to focusing on an object, and this is probably Motorola's way to compensate for the lack of optical image stabilization. And yet, you'll notice that every once in a while you'll have to focus more than once on a face or object, as for some reason the laser focus isn't accurate 100 percent of the time.
Moto Z2 Force does offer 4K video support, but without OIS, I found myself barely using this feature due to the shakiness that was clearly noticeable in my clips.
Motorola used the traditional approach with a fingerprint sensor integrated into the home button, which in turn creates as huge bezel in the lower part. But the good thing is that the home button comes with gesture support that you're going to love, like long-pressing to turn on and off the display, so the side button wouldn't be used.
There's no headphone jack, but instead you get a USB-C port that is being used for recharging and listening to music. A USB-C-to-3.5mm audio adapter is included in the box.
The phone also supports fast charging, and the battery is a non-removable unit with 2730 mAh battery. This is also one of the areas where Motorola needs to focus a bit more on the coming generations.
The battery is large enough to get you through the day with one charge if you're a light user, but other than that, you'll find yourself looking for a charger way too often. I, for one, barely got 18 hours of life per charge without running any heavy task, and what really seems to have a major impact on battery was pretty much any app that keeps the screen on.
If you enjoy watching YouTube videos on your phone, be ready to recharge the Moto Z2 Force twice per day. The same thing for gaming, which I estimate would drain a full battery in just a few hours.
Motorola Z2 Force is a modular phone, so it supports MotoMods. I already discussed this concept when I reviewed the Z2 a long time ago, and although I didn't have the chance to try out new mods on the Force, I think they provide a neat experience to those who want upgrades on the fly. This is particularly important for the battery case because as I said, battery capacity is one of the things that need to be improved on the next generation.
Motorola launched the phone with Android 7.1.1, but the update to Android 8.0 Oreo has already been released, so you'll get the last in terms of software, plus a set of gimmicks courtesy of the Lenovo-owned company.
The Moto Active Display, which uses infrared sensors to automatically detect activity around the device and turn on the screen to display key info like notifications, is also available, and so are some new options like quick replying by simply tapping icons on this always-on screen.
---
The Good
To be completely honest, I was excited about the opportunity of trying out a shatterproof phone, and at some level, the Moto Z2 Force didn't fail my expectations.

I'm saying at some level because the phone did break during our tests, but it proves me that manufacturers are on the right path here and sooner or later, someone will do manage to build a phone that doesn't break into pieces.

The Moto Z2 Force is a fast phone that comes with top hardware and an optimized software experience, with Motorola also trying to stay close to the big guys on the market with upgrades like a dual-camera system and a fingerprint sensor that supports gestures.

At about $600, this package isn't really expensive and you get a lot for the money. And above all, the Z2 Force supports MotoMods, which of course means that you'll have to spend extra for some upgrades, but at least there's the possibility of adding a new camera or a new battery pack on the fly.
The Bad
What worries me, however, is that aggressive marketing focused on one feature has the potential to trick many people into believing that they can do anything with their phone without breaking it.

In fact, unless you read all the documentation that the Z2 Force comes in, this is exactly what you're tempted to do. I remember when I got my first water-resistant phone because one of the first things I did was to throw it in the water to show others that it can survive with no damage whatsoever.

This is exactly the case with a shatterproof phone too, and as I said during the review, it's critical for everyone to be aware of the thin line between marketing and the actual capabilities of a phone.

Battery life and camera performance are without any doubts the two things that need to be substantially improved on the next-generation model because otherwise, it's hard to believe that too many people would spend so much money on a phone just because it claims it's shatterproof.
Conclusion
If before reviewing the Moto Z2 Force I was really excited with the phone and even considered buying one because I'm so tired of spending a thousand of dollars on smartphones that can break into pieces so easily, I can't say I'm still interested in this anymore.

While it's more rugged than the majority of phones, the Z2 Force isn't an indestructible device, as our own tests proved. With a combination of plastic, five layers of protection on the screen, and aluminum for the rest of the body, the Z2 Force does rely on a sturdy mix that few phones offer these days.

But on the other hand, I don't think the Force can set a new standard for phones in this rather small niche. Samsung is exploring the same market with its Active series, offering top hardware with high endurance features, and by the looks of things, they are substantially more successful.

A shatterproof phone that doesn't survive scratches and water makes so little sense, and for me personally, this is a deal-breaker.

Motorola has so much to improve on this phone that I believe it could take more than just one generation to achieve a truly compelling package. But on the other hand, the company has already embraced the right path that gains more fans every year, and if it continues making investments in this regard, sooner or later everything would pay off. Listening to feedback, however, is key.
Our Rating
Photo Gallery
(34 Images)